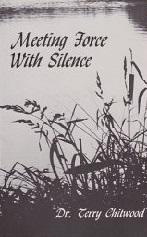 Meeting Force With Silence was first published in softcover in 1985. This book was written as a sequel to How To Defend Yourself Without Even Trying, but this present book speaks with its own voice and power. Not only does it contain the power to change you, but it gives you spiritual guidance with how to live your life.
I received a number of letters thanking me for writing the book, Readers told me they enjoyed the stories and were touched by the book's spirituality. Readers said that Meeting Force With Silence contains a timeless wisdom that permeated their souls and had unexpected positive effects weeks after reading it.
Meeting Force With Silence discusses nonviolent self-defense principles, aikido, and spiritual philosophy. Real-life personal experiences illustrate the applications of these principles. Topics include: Karate Comedy, Party Kicks, Symbols of Power, Friendly Toughs, The Broken Arm, Everyone Needs Love, Dreams, Miracles, Noninterference, and Humility.
The following are excerpts from Meeting Force With Silence:
"He ran up to my face, stared at me, and yelled that he was going to kill me."
"Each moment has important signs willing to aid you in your life's path."
"Desiring something that is not in your life's path could cause you unnecessary hardship."
". . . every situation, person and event that comes your way in life is meaningful to your spiritual growth."
"You attempt to steer your life in one direction, and events shove you in another."
I republished Meeting Force With Silence in an eBook format that is available at Amazon and Barnes & Noble.